What is custom metadata?
Data without context is difficult to understand and use. Custom metadata helps admins or stewards create their own metadata attributes and add them to relevant data assets in Atlan.
For example, you can add "ETL details" as a new metadata group. This can include custom metadata fields like "job link", "last run date", and "last run status".
Common, standardized terminology helps people quickly understand data and its background, especially for your organization's business users.
Highlights of custom metadata
🗂️ Organize metadata by creating custom fields and organizing them in your own groups
✅ Ensure accuracy of your metadata values by setting restrictions on its values — e.g. minimum/maximum string length, value type (date, boolean), etc.
✍️ Maintain standard metadata by telling the users exactly what metadata values to add for each data asset. No confusion leads to faster data enrichment!
✨ Spotlight: Custom metadata in Atlan lets you add whatever metadata fields you need. This helps data admins and stewards keep data clean with perfectly customized metadata provisions.
🛠️ A step-by-step guide to creating and adding custom metadata
Step 1: Add custom metadata
Go to the "Governance Center" page, and click on the "Custom Metadata" option in the left sidebar (under the "Governance" section).
Click on the "+" symbol to the right of the "Custom Metadata" title.
A modal will open. This is where you can name your metadata field and give an appropriate description.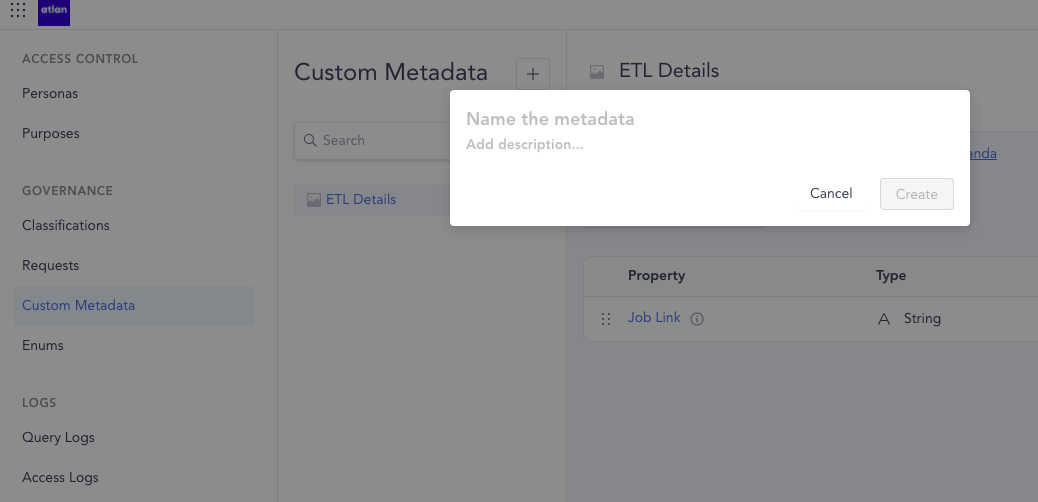 Step 2: Add attributes inside custom metadata
You can add attributes after you've created your new custom metadata.
Click on the "Add Property" button for your new custom data.
A modal will open where you can add all properties about the metadata.
After filling these details, click on the "Create" button at the bottom.
You will be able to see all the new metadata attributes and their properties in the same page.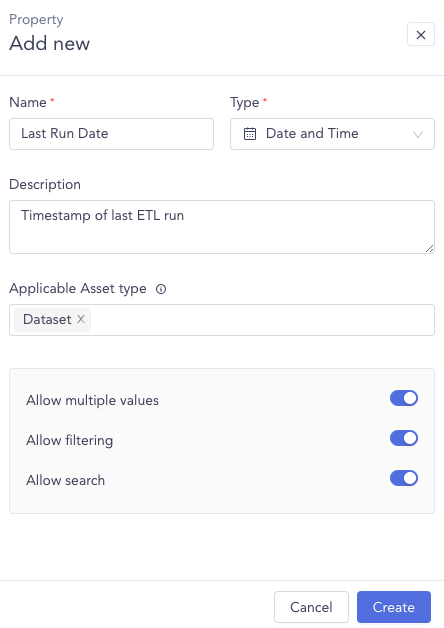 Here are the attributes that you can set for your custom metadata:
Type: You can set the type of the attribute value to ensure accuracy — for example, string, integer, date, boolean, etc.
Applicable Entities: You can select the data assets to which the attribute can be applied. For example, a metadata attribute may only apply to data tables and not to BI assets.
Allow multiple values: If you enable this option, a user can enter multiple values for the metadata attribute.
Allow filtering: If you enable this option, the attribute can be used for filtering assets in Atlan's search.
Allow search: Enabling this option allows the user to search by this metadata attribute.
Step 3: Add custom metadata to data assets
Go to the profile of the asset where you want to add custom metadata.
On the right-hand panel, select the appropriate Custom Metadata tab.
Click "Edit" and add values for the metadata attributes.
Click "Update" to save your changes.