From your Atlan home screen, find "Glossary" in the left-hand menu — it's in the list under "Workspace". This is where you can add glossary items, search for existing glossary definitions, and archive old ones.
👑 Nesting items in your glossary
The glossary allows you to nest terms under categories and subcategories. This allows you to create, for example, a Demographics glossary and then define relevant assets like demographics data tables and data assets.
By structuring your glossary hierarchy, you can nest additional terms and categories (much like folders in your computer) to identify glossary terms inside your Demographics Glossary, such as PII Demographics with sub-terms like Gender or Age, and Location Demographics with sub-terms like City or Country. The screen grab below shows nested Glossary terms.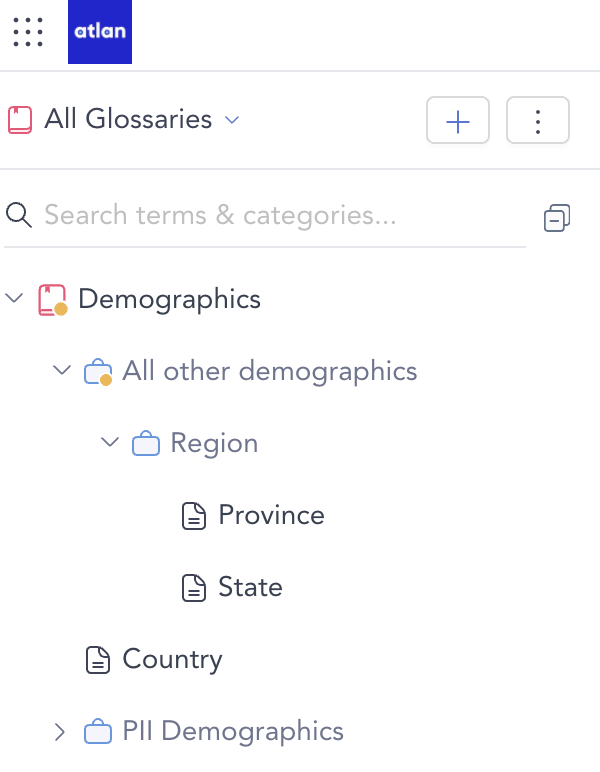 Demographic data nested in a hierarchy

💫 Quick tips for navigating the glossary and creating your first glossary profile
➕ Create a new glossary term
The plus sign ("+") button allows you to quickly create a new glossary term.
To create your first glossary term (which will be the highest category in your glossary), click "+".
Name this item.
Write a detailed description that makes it clear to all users what this category defines.
🔦 Search for glossary terms
You can search for terms using the search bar or navigate through them using the drop-down arrow.
👀 Note: To see all your categories, sub-categories, and terms, click the dash ("-") icon on the search bar line to expand all glossary items.
📖 Define your glossary terms
When you define a new glossary term, there are a few key features to fill out so your whole team will understand how to use it.
Certification: It's important to let your team know if your glossary definition is finalized and ready for everyone to use and distribute. You can let other users know if your definition is good to go by clicking the plus sign next to Certificate and identifying the certification you are applying to that glossary item.
Owners: Once you've created your first glossary category, add an owner to this term (you!) by clicking the plus sign next to "Owner".
💡 Spotlight: An owner is an easy way for your teammates to figure out who's an expert on a glossary term. This is the person they should ask when they have questions about a glossary item or if they want to collaborate on making changes to the glossary item selected.
🔎 Inspect a glossary term
The navigation bar to the right of the Overview provides some high level information about the glossary item you are looking at. You can inspect the definition and owner assigned, see who has last updated the item, understand the relationships of this term to others in your glossary, and identify the UIDs associated with this term.
The Terms and Categories view allows you to examine sub-categories related to the glossary term you are looking at.
📑 Readme
The secret to making your glossary super useful to your teammates and end users is to provide as much detail as possible about what you're defining, why you're defining it, and who is using it. The Readme section is the best place to go into detail about your objectives in defining a glossary term.
📎 Resources
In the Resources section at the bottom of the page, you can add links to internal or external URLs that will help your team better understand your glossary items. Just click the "Add Resource" button to add a URL.
⚡️ Pro Tip: Add links from Github, Google Docs, Google Sheets, or any other resources that explains an attribute or column in your data to make your asset super clear.
How to create categories and categorize terms inside Glossary
Here's how you can create a category in Atlan's glossary:
Select the glossary in which you'd like to add a term with the drop-down in the left sidebar.

Click on the "+" sign next to the Glossary name, and select "Add Category".

In the modal that shows up, you can enter the name and description of the category, along with the Certificate you want to attach ("Verified", "Draft" etc) and a user/group as the owner.

Click on "Create" and you now have your category within the glossary!

Terms can be added to the category by clicking on the three vertical dots next to the category name, and clicking on "Add Term". You can also create a sub-category within the category by selecting "Add Category".